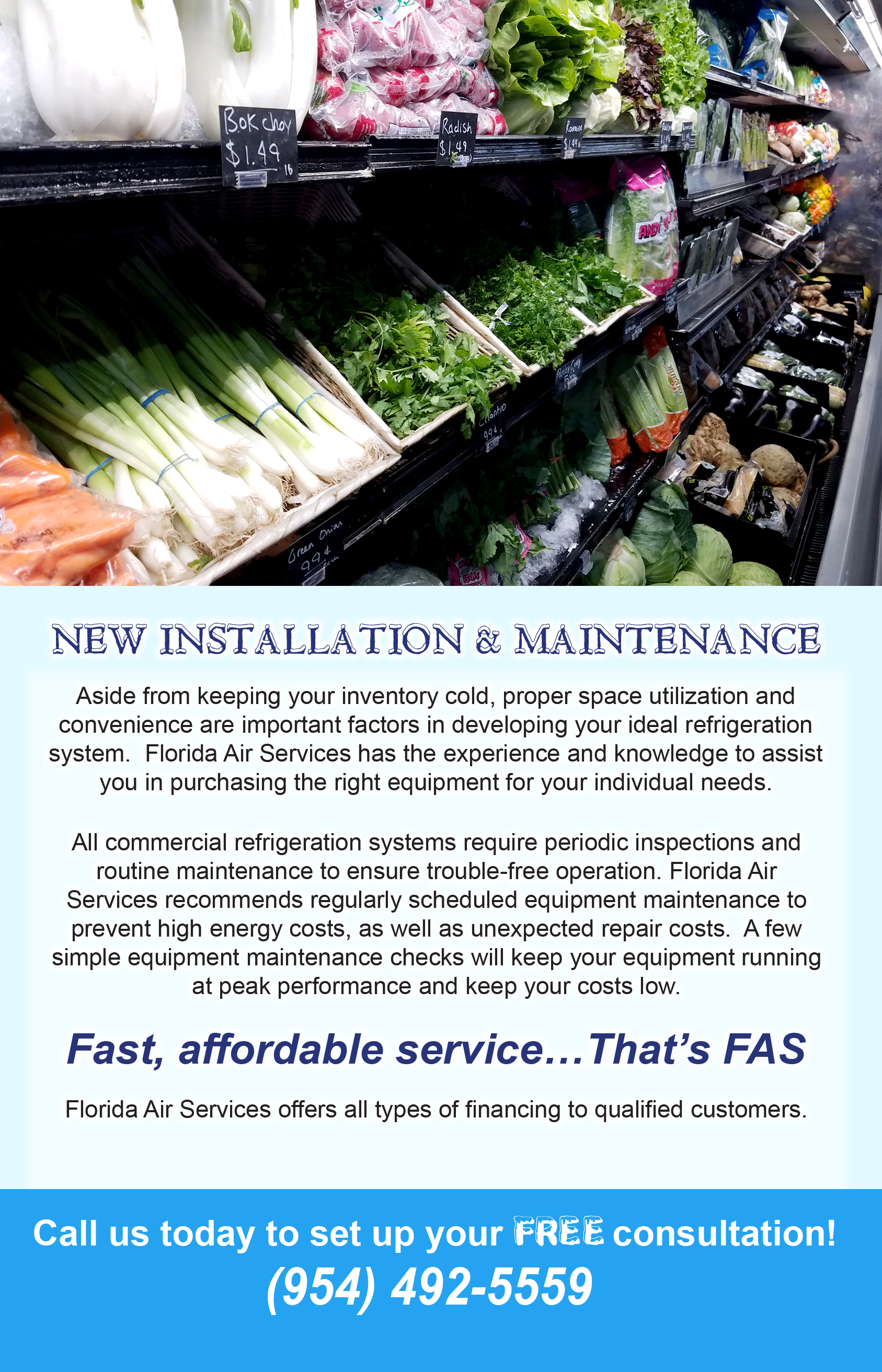 Having the proper refrigeration equipment is essential for any business in the food service industry. Florida Air Service in Fort Lauderdale, Florida offers a great variety of commercial refrigeration equipment at competitive prices.
Commercial refrigeration equipment is required for most restaurant kitchens and is necessary for many other businesses that deal with food, as it helps keep food cold and reduces the risk of bacteria growth and food poisoning.
Businesses that may need commercial refrigeration solutions include, but are not limited to:
Bars
Caterers
Florists
Grocery stores
Gyms
Hotels
Industrial companies
Manufacturing companies
Restaurants
Schools
Theaters
Wholesale retailers
Finding the right type of commercial refrigeration equipment for your business can be hard, but the professionals at Florida Air Services can help. We have many different styles and sizes of equipment available, so whether you need a reach-in freezer, a walk-in cooler, or a refrigerated display case, we have the equipment that you're looking for.
Call Florida Air Services in Fort Lauderdale, Florida today to learn more about our commercial refrigeration options.
What's Important When Buying Your Next Walk In??
Keep these tips in mind when buying your next walk in cooler:
Select your new walk-in cooler based on research, not emotion. You are making a long term investment in your business. Don't let your decision be swayed by emotion or high pressured sales techniques. Rely instead on facts and common sense when deciding where to purchase a walk in cooler!
Hold suppliers to the same high standards that your customers hold you! Insist on full and detailed walk in cooler specification sheets. Demand this information in writing and then compare features and presentations.
Installation is critical to the proper performance and longevity of any walk in cooler or freezer and all its equipment. Relying on references from people you trust is the best place to start. Local restaurants are also a good source of information when searching for reputable service companies. This way, you can ensure your walk in cooler is installed properly. Maintenance is the key to low repair bills and long equipment life for all walk in coolers; start a regular cleaning schedule!
Finally, you need to evaluate quality, not just price, as part of determining the best value for your investment. After all, you don't want to end up with a faulty appliance that doesn't work up to your standards or requires constant maintenance and repairs. Make sure that you evaluate as part of the overall price of the unit quality, reputation of the manufacturer, warranty, and opportunity to customize the unit to your needs.
At Florida Air Services, we are proud to have nearly 30 years' experience as refrigeration specialists, known for our quality and overall customer satisfaction. We want to work with you now and for years to come.
Call us or email us today and get a quote for one of our high quality walk in coolers or freezers — supported by the best warranty in the industry. You won't be disappointed!
Call 954-492-5559 or email jessica@floridaairservices.net