SAVE TIME AND MONEY WITH OUR MAINTENANCE PLAN
The tropical climate of South Florida means that residents live with warm, humid temperatures nearly 12 months of the year. For many, Air Conditioning in the home and office is not a luxury–it's a necessity.
Your Air Conditioning System is one of the most expensive and valued assets in your home or office and is one of the largest sources of energy consumption, so it makes sense to keep it operating properly and efficiently.
We offer planned preventative maintenance packages starting at $175 for the year.
Annual, Quarterly or Semi-annual Preventative Maintenance Tune-Ups
Reduce equipment breakdowns °
Prolong equipment life °
Save money on electric bills °
Improve indoor air quality °
Provide peace of mind with continuous comfort °
Conserve natural resources
Our customer service specialists can arrange a 27-point equipment check-up. It takes only 45-60 minutes per system and can be scheduled for your convenience Monday-Friday. Available for your full-time residence, vacation home, rental property or office.
27 Point Inspection Checklist
Outdoor unit Safety Inspection

Check refrigerant levels

Check all C/U electrical connections

Test Capacitor

Inspect Contactor

Motor amperages

Compressor amperages

Inspect C/U coils

Inspect for leaks (CU)
Inspect Disconnect box

Check Sub-Cooling

Indoor unit safety Inspection

Inspect for Possible Water Leaks

Check all AHU electrical connections

Inspect evaporator coils

Check air filter

Motor amperages

Test Safety Float switch(es)
Inspect circuit boards

Test electrical heater

Inspect for leaks (AHU)

Inspect for mold, mildew, microbials

Inspect drain pan

Apply drain tablets

Test thermostat function

Check Supply air temperatures

Check Return air temperatures
APCO Whole House Air Purifier
The award-winning APCO system (Advanced Photocatalytic Oxidation) represents an entirely new type of air purifier. APCO is installed in the ductwork of the central air system where it scrubs the air as is passes by. APCO's unique combination of UV-C light and activated carbon achieves unmatched germ and odor reduction without producing any harmful ozone. APCO is particularly effective at reducing odor-causing volatile organic compounds (VOCs) which include toxic chemical vapors like formaldehyde and toluene.
This product comes with a lifetime warranty on all parts except the UV lamp (which needs to be replaced every one or two years depending on model).
Specifications:
The UV-C light in APCO works just as well at keeping AC coils clean as non-PCO products. Moldy coils shorten the life of the air system and waste energy by reducing efficiency. UV-C light kills the mold and reduces the need for system maintenance.
Indoor Air Quality
According to the EPA indoor air pollution is often five times worse than outdoor and represents a significant health risk. An APCO whole-house air purifier improves indoor air quality by destroying odor-causing and potentially toxic VOCs, while sterilizing mold, bacteria, viruses, and allergens from the air stream.
Germ-Killing Power of UV-C Light
For over a century scientist have known about the germ-killing properties of UV-C light. Because this frequency of light is filtered out by the Earth's atmosphere microorganisms have no defense against it. It works by scrambling their DNA which prevents them from reproducing.
SPECIAL INSTALLATION PRICE - $680.00
When you need AC Repair in Fort Lauderdale, FL think of Florida Air Service. Fully licensed, bonded and insured, Florida Air Service is South Florida's number one choice for all residential and commercial AC services in Broward and Palm Beach Counties.
As a special offer for you, our internet customer, we offer a FREE diagnostic, plus 10% Off Your First Repair* completed by Florida Air Service.
*Work must be done by Florida Air Service to qualify for free diagnostic and service discount.
Coupon must be presented at time of service and not to be combined with any other offer.
Call now to schedule an appointment (954) 492-5559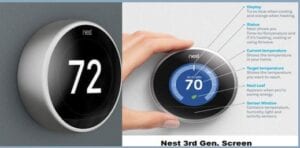 Meet the Nest Learning Thermostat.
The third generation Nest Learning Thermostat is more beautiful than ever, with a thinner, sleeker design and bigger, crisper display. And it's proven to help save energy. In independent studies, the Nest Thermostat saved an average of 10 to12 percent on heating bills and 15 percent on cooling bills.
$490.00
Online Special! – Installation Included

Quickly transform your air conditioner into a germ & bacteria killing machine.
Reduced Pricing
TradePro Single Bulb UV Light
$350.00 
/Unit
REDUCES SYSTEM MAINTENANCE
IMPROVES INDOOR AIR QUALITY
REDUCES BACTERIA, MOLD AND VIRUSES
REDUCES ODORS
ONLINE SPECIAL – INSTALLATION INCLUDED
PLEASE NOTE:
*ONLINE SPECIAL. VALID FOR RESIDENTIAL APPLICATIONS ONLY. INDOOR UNITS LOCATED IN ATTIC/CRAWLSPACES ARE SUBJECT TO AN ADDITIONAL $45.00.

Mini UV LED is the first-of-its-kind UV light LED system for mini-splits and similar limited space applications.
$700.00
ONLINE SPECIAL - INSTALLATION INCLUDED
PLEASE NOTE:
*ONLINE SPECIAL. VALID FOR RESIDENTIAL APPLICATIONS ONLY.