Commercial Ice Machines
Looking for commercial ice machine service, repair, or installation? We've got you covered.
Change Your Water Filter
The most common equipment that gets forgotten in hotels and restaurants when it comes to getting regular maintenance is the commercial ice machine.
Since having a broken ice machine is not fun, we wanted to provide you with a few tips that will help you to avoid commercial ice machine repair in the future. Here are a few simple things you can do starting day to keep your ice machine functioning properly for a long time:
Make sure you are replacing the water filters every 6 months. If you want to extend the life of your ice machine, then it is important that you change the filters on a regular basis and try not to let 6 months go by without doing this. Here is why the water filter is so important:
It will remove any bad taste or odors from the ice, so your customers will be happy.
Over time, calcium scale can build up in your machine, which can greatly reduce the amount of ice your machine can produce; the water filter will reduce and prevent this scale build-up in your equipment.
It keeps the ice looking clear and clean by removing any sediment that is in the water.
Now, you may be saying that your filter typically does not look blocked up with sediments around the 6-month mark, so, why should you change it every 6 months? The reason you want to do this is while your filter may not be blocked with sediments, the carbon elements and scale inhibitor, which is what the machine uses to remove any bad taste or odors from the ice, will not be effective anymore as they will be completed depleted within 6 months. So, if you start to hear complaints from customers about their water or drinks tasting funny, then you probably just need to change the filter on your machine.
Ice machine manufacturers, such as ICE-O-Matic, will even provide their customers with a no-charge extended warranty, if they change the filter every 6 months.
Do You Have Antimicrobial Protection?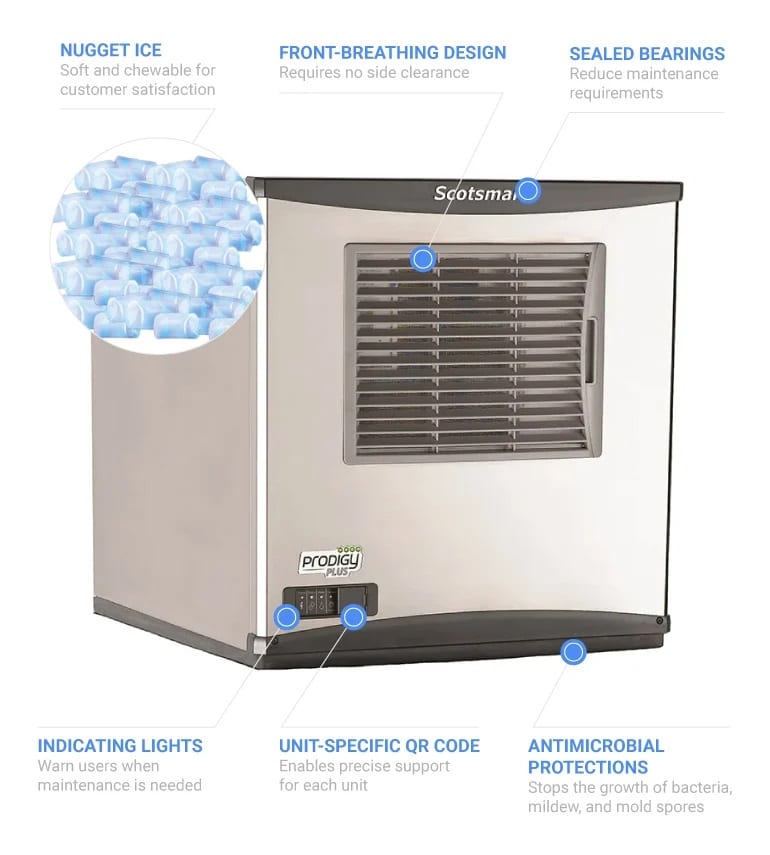 When it comes to commercial ice machines you have to be concerned about the growth of both mold and slime.
Now, many of the newer machines will come with built-in antimicrobial protection on the plastic that is in the food zone sections where the ice is produced and the manufactures nowadays even guarantee that mold or slime will not grow in their machine. But if you have an older unit, you should definitely find out if your unit has this type of protection and if it doesn't, you should consider investing in it.
Your Machine Needs to be Sanitized on a Regular Basis
If you are currently using antimicrobial protection and changing the water filter on a regular basis, then you are heading in the right direction to prevent ice machine repairs, but there is one other thing you cannot forget to do and that is to clean your equipment on a regular basis.
Now, when we say "cleaning," we are referring to completely emptying out your unit and thoroughly sanitizing it, and this should be done at a minimum of every 6 months.
Things that you will need to properly clean your machine are: Ice machine Sanitizer
A nickel-safe scale remover
If you are looking for a more hands-free solution for cleaning your machine, you can look for a manufacturer like Manitowoc, which sells systems that can automatically sanitize your ice maker on different intervals such as 2, 4, or 12-week cycles.
You should also change the air filter and clean the condenser fins on a 6-month basis. The reason is, you need to keep the condenser free and clear of any grease or lint build-up because if you allow this build-up to happen, then over time, this will reduce the efficiency of your ice-maker and as a result, it will produce less ice.
Following these techniques will help your business to eliminate the need for ice machine repair or commercial ice maker repair.
Commercial Ice Machine Service
When we come out to service your commercial ice maker, we will inspect the entire unit to see if there are any nicks, warps, or bulges, and then we will check the coils to see if they are clean, we also check for leaks and to see if the filter needs to be changed. Here are a few of the types of machines we have experience fixing: Shaved ice machines

Flaked ice machines
Half dice ice machines
Cube ice machines
Nugget ice machines
Ice Cream machines
Some of the most common types of commercial ice maker repairs are:
Problems with the controls
An evaporator that has scale and lime build-up
Worn plating
Water distribution component blocks that have scale build-up
A Water supply that has been interrupted
Other commercial ice machine services that we offer are: Ice dispenser repair and service
Ice bin repair and service
Dump valve
Water curtain
Water valve
Parts
Water pump replacements
Maintenance
Have more questions? Call our office 954-772-2838, we'd love to help!